Healthy Mouth App. The Self-Assessment From Home
Take Your Oral Health Self-Assessment From Home.
When people say there is an app for everything, they weren't kidding! Now you can learn how healthy your mouth really is from the comforts of your own home. Kois Center has brilliantly created a self-assessment app that can tell you what kind of shape your oral health is in by answering a series of "yes" or "no" questions. They are paired with pictures so you can identify exactly what each question is asking and answer it in full confidence.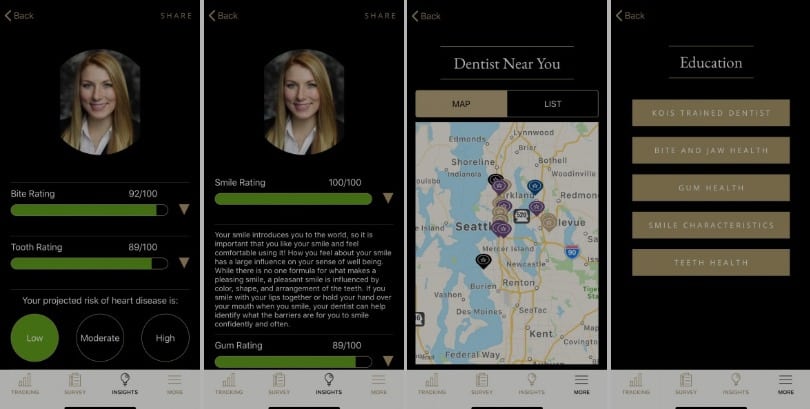 The Process
You can expect the process to go fairly quickly; in fact, it should only take about 5 minutes from once you have downloaded and opened the app to completing the assessment:
Create and Register your account within the app.
The apps algorithm that will analyze your responses and provide you with risk estimates for all aspects of your mouth.
You will then be directed, within the app, to local dental offices that can interpret your results.
Once you pick the dental office of your choice, you can schedule an appointment for any concerns you may have that may have come up in your assessment results
Learn More About The
Healthy Mouth App
The Key Features
Take the Healthy Mouth oral health self-assessment and get a report that breaks down your oral health into four categories, Smile Characteristics, Gum Health, Bite and Jaw Health, and Tooth Health.
Projected heart disease risk score based on your Healthy Mouth Report.
Track your daily brushing and flossing habits and bring it to your next dental appointment to review.
75+ articles in the Patient Education Section.
Find a dentist that has been specially trained to work through all the questions in your Healthy Mouth Report.
The Benefits
What's not to love about this app? You will have your dental care team, resources, and all your oral health results at your fingertips- Literally just a tap away.
Thank you for taking the time to become a better you! Invest in yourself and make habits that will benefit you and your loved ones for a long time. If you have any questions, or would like to set up an appointment, don't hesitate to call us at (206) 203-9385 or reach us online!
More Articles…