The Foundations Of Great Oral Care For Kids
The Foundations Of Great Oral Hygiene For Kids
We all want better for our kids as they grow and become functioning adults in society. One of the best things we can teach them is good oral hygiene! How do you instill that in their daily routine? This is a question that a lot of parents struggle with, so you aren't alone if you don't know where to start. We have some basic things for you to look out for and practice even from the baby stage all the way to their young adult lives!
Babies
Use a soft cloth to wipe down newborn's gums. This will get them used to you cleaning their mouth so later down the road you won't have to struggle to brush, they won't know anything different!
At about 6 months babies usually start to get their first teeth. If you give them a soft toothbrush to teeth it won't seem strange when you start brushing for them and they will get used to the feel of the bristles on their gums. Making it fun and positive is huge for this stage, so don't over do it when they start getting frustrated, just keep trying as much as they will let you.
Anything other than water in their bottle/cup at night can be detrimental to their new teeth.
It's important they are drinking from a cup around age 1 to make sure their jaw is forming properly.
Little Kids
By age 3 you should discourage pacifier use and thumb sucking- the shape and form of their mouth and teeth can be affected and cause issues later.
 Your routine dental cleaning can be a huge help in them get used to going! So, bring them in and your dentist will help make it a great experience for both of you.
Try letting your child brush by themselves after you have gotten the job done. Doing this can help them really enjoy brushing and flossing!
Fluoride free toothpaste should be used until they learn to not swallow.
Big Kids
At around age 10 premolars start to come in followed by the canines. This is normally the time to talk to your dentist about sealants.
Phase 1 of braces is when a correction in your child's mouth alignment is made while they are growing. This keeps the time in braces (if needed) shorter.
Help your kid feel more independent, responsible, and confident by putting together a brace care kit if braces are something that your dentist recommends. Kids like to feel in control of some aspects of their lives at this age, this will give them some organizational skills as well as build that foundation we keep talking about!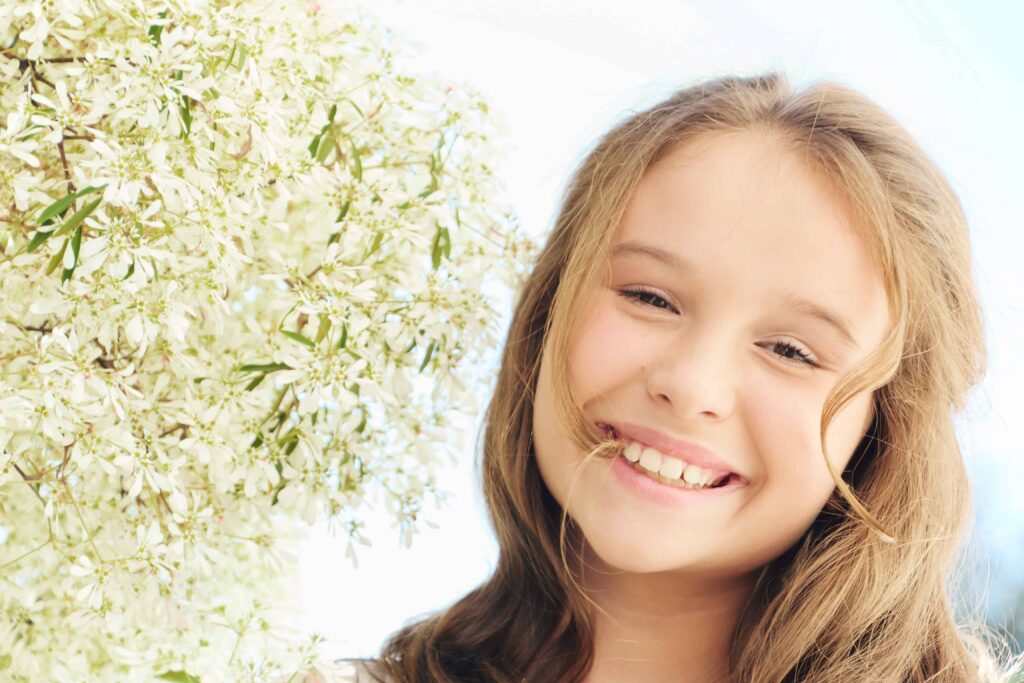 Teenagers
Age 12 is when their last molars are growing in. This is another great time to talk to your dentist about sealants. If they were put in before, then the dentist will check up on them and make sure they are still functioning as they should.
Wisdom teeth… your kid's experience doesn't need to be like the awful stories you may have heard or maybe even experienced yourself! Schedule their appointment around age 15 so that their dentist can have their teeth evaluated and have a plan in place if they need to have surgery or not. Sometimes people don't need to have them taken out, but it is always important to have them checked out first before the decision is made.
A healthy diet and lifestyle will give your kid a huge advantage in keeping great oral hygiene. If they can keep the cavities away as kids growing up, then they have better chances of keep them away as adults.
The most important things to do is to keep a daily routine of brushing twice a day and flossing at least once a day and staying on top of their routine cleanings and checkups. The more time you spend teaching good oral care- the less time they will spend in the dentist office, overall, later in their adult life. We all want what's best for our children and teaching them good oral hygiene is one the best habits you can pass down to them.
Thank you for taking the time to become a better you! Invest in yourself and make habits that will benefit you and your loved ones for a long time. If you have any questions, or would like to set up an appointment, don't hesitate to call us at (206) 203-9385 or reach us online!
More Articles…